DR. LAI Ka Man (賴嘉雯)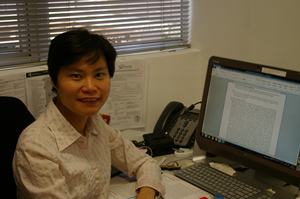 B.Sc.(Hons.), HKBU; M.Phil., CUHK; Ph.D., Imperial College London
Associate Professor at Department of Biology, Hong Kong Baptist University
Rm. T1105; (852) 3411 5835
Email: laikaman@hkbu.edu.hk
CURRENT RESEARCH INTERESTS
Urban Environments, Infrastructure and Health
Biosecurity and Hospital Infection Control
Building Microbiology and Urban Ecology
Urban Resources and Resilience
RESEARCH PROJECTS
Outdoor airborne pathogens and human health in the UK (AirPath), supported by NERC, EA, Defra, the MOD, MRC, The Wellcome Trust, ESRC, BBSRC, EPSRC and HPA – Grant reference:NE/E00881X/1, NE/E008674/1, NE/E008852/1 (2007-2009)
Infrastructure and the 21st century infectious diseases, supported by the EPSRC Challenging Engineering Awards 2008- Grant reference: EP/G029881/1 (2009-2014)
EU FP7 RIBS: Resilient Infrastructure and Building Security – Bio-Protection (2010-2013)
Lay perceptions, prejudice and the natural environment in the spread of animal-human and human-human infections, Environmental and Social Ecology of Human Infectious Diseases (ESEI) catalyst project MRC (2010-2011)
Biosafety and biosecurity supported by the EPSRC Engineering Doctorate in Urban Sustainability and Resilience and Laing O'Rourke (2011-2015)
Green Space-age: Integrating vegetation with MEP systems supported by the EPSRC Engineering Doctorate in Urban Sustainability and Resilience (2009-2013)
SELECTED PUBLICATIONS

Taylor, J., Lai, K.M. and Nasar Z. Human factors and bioagent transmission following an indoor bioterror attack. Journal of Bioterrorism & Biodefense accepted
Lai, K.M. Infrastructure and Health, Controversies in Science and Technology, Volume 4., Ed D.L. Kleinman, K.A. Cloud-Hansen and J. Handelsman. Mary Ann Liebert, Inc. publishers.
Borrion, H., T. Mitchener-Nissen, J. Taylor, and Lai, K.M. 2012. Countering Bioterrorism: Why smart buildings should have a code of ethics, in European Conference in Intelligence Security Informatics, edited, IEEE, Odense, Denmark.
S. Vardoulakis, J Thornes and Lai, K.M. 2012. Health effects of climate change in the indoor environment, Health Effects of Climate Change in the UK, commissioned by the UK Department of Health and edited by the Health Protection Unit, UK
Taylor, J., Davies, M., Canales, M. and Lai, K.M. 2012. The persistence of flood-borne pathogens on building surfaces under drying conditions. International Journal of Hygiene and Environmental Health. http://dx.doi.org/10.1016/j.ijheh.2012.03.010
Khan, M.Z., Yim S. and Lin Y.J and Lai, K.M. Testing biological effects of hand washing grey water for reuse in irrigation on an urban farm: A case study. Environmental Technology (accepted)
Pankhurst, L.J., Anaraki, S., and Lai, K.M. 2012. Combining environmental assessment and contact investigations to make tuberculosis screening decisions, The International Journal of Tuberculosis and Lung Disease 16:1023-1029.
Taylor, J., Biddulph, P., Davies, M., Ridley, I., Mavrogianni, A., Oikonomou, E., Lai, K.M. Using building simulation to model the drying of flooded building archetypes. Accepted in the International Journal of Building Performance Simulation.
Y. Rydin, M. Davies, J.D. Davila, P.C. Hallal, I. Hamilton, K.M. Lai and P. Wilkinson. 2012. Healthy communities, Local Environment: The International Journal of Justice and Sustainability 17: 553-560.
Rydin,Y., Bleahu, A., Davies, M., Davila, J.D., Friel, S., De Grandis, G., Groce, N., Hallal, P.C., Hamilton, I., Howden-Chapman, P., Lai, K.M., Lim, C.J., Martins, J., Osrin, D., Ridley, I., Scott, I., Taylor, M., Wilkinson, P., Wilson, J. 2012. Shaping cities for health: complexity and the planning of urban environments in the 21st century. The Lancet 379: 2079-2108.
D'Arcy N, Canales M, Spratt DA, Lai, K.M. 2012. Healthy Schools: Standardisation of culturing methods for seeking airborne pathogens in bioaerosols emitted from human sources. Aerobiologia (in press)
Lai K.M., Z.H. Ozuah et al. 2012. Systems connectivity between social, cultural and economic factors and housing environments associated with TB transmission in slums, Journal of Environmental Planning and Management 55: 355-367.
Maliki, A.D. and Lai, K.M. 2011. Design and application of a pre-composting test step to determine the effect of high fat food wastes on an industrial scale in-vessel composting system, International Biodeterioration & Biodegradation. 65:906-911
Pankhurst, L. J., Taylor, J., Cloutman-Green, E. A. and Hartley, J. C. and Lai, K.M. 2012. Can clean-room particle counters be used as an infection control tool in hospital operating theatres? Indoor and Built Environment 21: 381-391.
Lai, K.M, Bottomley, C., McNerny, R. 2011. Propagation of Respiratory Aerosols by the Vuvuzela. PLoS ONE. 6(5)